USE PREPQUIP AS THE SUPPLIER OF YOUR INDUSTRIAL FILTER PRESS
The Tecnicas Hidraulicas (TH) Fully Automatic Industrial Filter Press
Designed in Spain in 1990, offers a practical and robust solution for the demanding operating conditions found in the mining and mineral industry with regards to fine solid-liquid separation.  With the developing demand for the elimination of slimes dams, this product will find its rightful place in this aggressive market because of its low capital and operating costs.  The design guarantees durability, unwavering quality and adequacy with remarkable advantages.  The Filter Press size ranges from 1.4m² to 208m², which is capable of producing filter cakes of up to 85 tons/hour dry solids per press.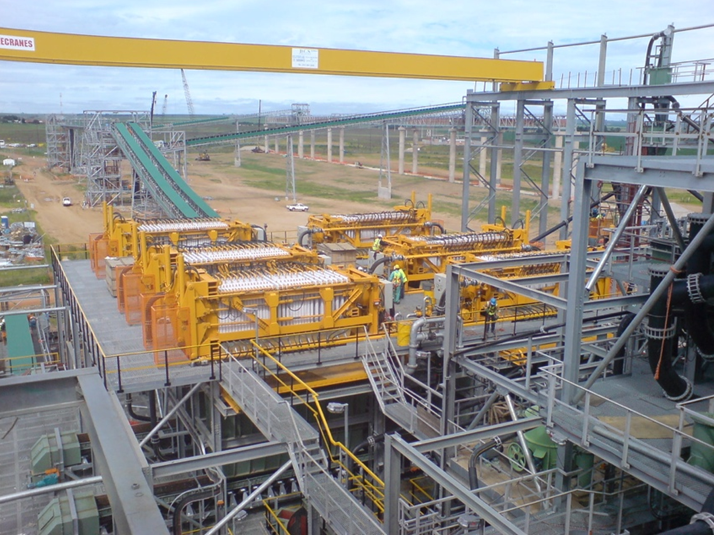 Features And Benefits
The successful execution of the TH filter technology in the mining industry has brought about the establishment of more than 154 units globally from PrepQuip.
The Major Reasons Behind Its Success Are As Follows:
a) Improved filter equipment – Tecnicas Hidraulicas (Spain) is conducting ongoing research and development to enhance the performance of the TH filter press. Recent TH filters delivered are furnished with the latest technology and improvements.
b) Simplicity of the completely automatic operation – No skilled operator is required to operate the machine, i.e. no "babysitting" is required.
c) Robustness – Filter plates are produced from 40mm thick steel plates. The filter plates are thus virtually indestructible even under adverse conditions. Reinforced plastic plates are available upon request to reduce capital expense.
d) Moving parts – It is known in the filter press industry that moving parts on a unit requires maintenance and replacement of spares. There are minimal moving parts on the TH filter press. The overall parts consumption and maintenance are kept to the minimum.
e) Positive cake discharge – The filter plates are not fixed to the frame of the filter. The plates are connected with chains on the top and travel on rail girders during opening/closing. During cake discharge, six plates are opened at a time, which allows an expansive opening between the chambers resulting in effective filter cake discharge. There is a swinging movement of the plates that ensures positive and complete cake discharge.  Therefore, no complex cake discharge framework is required.
There are more features and benefits of the PrepQuip supplied TH Filter Press that we will discuss in preceding blogs.
At PrepQuip, we are the specialist and sole suppliers of TH filter press on the African continent.  Use our expertise to give your processing plant a head start in front of the competition.