AUTOMATIC FLUSHING STRAINERS
South Africa's modern economy is highly dependent on quality filtration and filtration frameworks.  Our advanced strainer/in-line screen expels unwanted debris from a process liquid flow, even up to 180 µm particles.  One particular sort of strainers that are well known across a wide range of applications are automatic flushing strainers also known as the PrepQuip in-line guard screen.
Its principle uses incorporate collecting and sifting out solid materials and particles in liquids, such as, oil, fuel and water. By removing these particles, oversize and in some cases hazardous materials are kept from entering the process stream which in turn protects upstream equipment.  A conventional basket strainer requires manual cleaning of the filtration component frequently, with a specific end goal to remove blockages.  The in-line guard screen automatically flushes away unwanted oversize material during operation with no need to stop the process.
The flushing strainer has a purging port that is connected to the strainer.  This enables the automatic flushing and purging of collected solids and debris into an appropriate container, from where it can be easily discarded.  In conjunction with the fact that the in-line screen cleans itself, its purging can likewise occur without stopping operations or the flow of liquid as mentioned above.  These are just a few of the many reasons why so many companies have adopted for our automatic flushing strainer technology in their operations.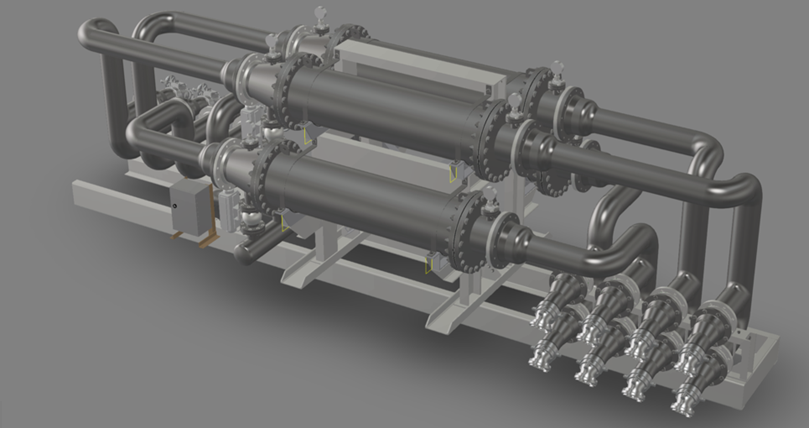 Custom-Designed Strainer/In-Line Screen Technology
At PrepQuip, we bring a lifetime of experience and expertise to the filtration and strainer sector.  Our group can help you select the best kind of strainer or filter technology for your filtration application.  We additionally size the right strainer and filter, while selecting the correct specifications for your filtration needs.
Allow our expertise to be advantageous to you, as we outline and manufacture our own custom designed strainer and filter that consummately matches your particular application prerequisites.  We have never adopted a one-size-fits-all approach, and will surely not begin now. We rather approach every application as a one of a kind conundrum that should be solved with a tailored solution by our experienced engineers.
Regardless of whether you chose a suitable strainer or filter from our broad range of standard designs, or want us to re-design to better suit your requirements, or simply design a system from scratch, we will dependably go the extra mile.  Harness the power of our expertise and manufacturing capacity, and let us create cutting-edge solutions for the modern filtration challenges facing your company.
We are prepared to help you meet the requirements of modern industrial processes and machines' filtration demands.  Demand more value for money and greater returns for your filtration investment with PrepQuip, and our team of specialists behind our filtration systems.